Killmaiden's Compendium of Uncommon Occurrences by James A. Shapiro


Twelve year old Alexander Drake lives in a world where a book is more influential than governments and more powerful than armies. The book is
Killmaiden's Compendium of Uncommon Occurrences,
a combination of one part Encyclopedia Britannica and one part Guinness Book of World Records. For over five hundred years the Compendium has chronicled the events of the Wide World, from recording the fastest land mammal to verifying alien landings. The Compendium's motto is "If it's in this World, it's in this Book," and it deploys its Explorers on missions to uncover the mysteries that hide in the dark corners of the world.
Alexander's family has produced generations of Compendium Explorers, including Alexander's father and his mother before her death. As a Scout of the Compendium, Alexander has chafed to use the skills he has learned to make real discoveries that would become "Entries" in the Compendium. But he gets more than he wished for when his father receives a secret mission from Lord Killmaiden, the publisher of the Compendium. Mr. Drake's mission is to unmask a would-be tyrant, the Satrap, and expose the force he is secretly raising in countries far and wide.
Before Alexander's father leaves on his secret mission, he gives Alexander a locked steel box with undisclosed contents. The box is set to open if Mr. Drake does not return on time from his journey. When Mr. Drake fails to come home, the box opens and Alexander, his younger sister, their teenage governess and an unexpected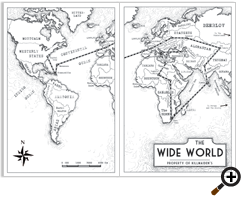 stowaway embark upon an adventure across the globe. While in search of Mr. Drake, Alexander and his companions discover many wonders and
uncommon occurrences
worthy of being entered into the Compendium. But with peril in front of them and danger nipping at their heels, they have little time to enjoy their findings. Instead, they are in a race against time and cruel enemies to find Mr. Drake and reveal the secret of the Satrap. But before they can succeed, they must first understand that sometimes the greatest revelation comes not from what you find in the outside world, but from what you discover inside yourself. The fates of Alexander's father and the rest of the Wide World depend upon it.
---
"A young adventurer searches for his father in this story filled with international intrigue.
Alexander Drake comes from a long line of 'Explorers' who investigate leads into the world's most bizarre and fantastic wonders for their inclusion in Killmaiden's Compendium of Uncommon Occurrences, an encyclopedia of sorts that has been in existence for over 500 years. They search the steampunk-ish alternative universe that author Shapiro calls 'the Wide World,' where chameleon flowers grow but jet engines are merely a rumor, where the countries known to us are given far more romantic names and histories, and where an evil warlord known as the Satrap is building an army in secret. When Alex's father, Benson, is sent on a secret mission to uncover the Satrap, Alex is forced to summon all his courage and skills as a Compendium Scout to find his father—before the Satrap finds him first. Alex is only 12, but as the youngest Scout ever to have a discovery recorded in the Compendium, he's far more capable than his age lets on. He's aided in his quest by his little sister, Charlotte, his governess, Victoria, and bullied schoolmate Oliver MacLeish, who makes up for what he lacks in courage with a whole lot of brains. While visiting mythical mountain temples, tropical markets and decadent palaces, the characters learn inspiring lessons about bravery and doing the right thing. Shapiro has a marvelous imagination and seems to hold nothing back, so the story reads like an episode of Planet Earth crossed with a James Bond novel. The landscapes range from snowy expanses to desert plains to riverside harbors, taking the reader on a delightfully descriptive though dangerous journey. None of the kids are older than 17, but all face their fair share of peril, including sword fighting with pirates and shooting down soldiers. The imagery (and the page count) might be a bit too much for some kids to handle, but most will happily go along for the ride.
A wild Young Adult novel that's out of this world." — Kirkus Reviews