Killmaiden's Compendium of Uncommon Occurrences by James A. Shapiro


Killmaiden's Compendium of Uncommon Occurrences has deployed Explorers on expeditions to chronicle the beauty and dark mysteries of the Wide World.
Twelve-year old Scout, Alexander Drake, has gone on many missions for the Compendium, but none as important as this one.
He's going to find his father if he has to cross the Wide World to do it.
He's taking his younger sister, their governess and an unexpected stowaway on his desperate assignment.
Their journey will be one of the Compendium's greatest stories, if only they can return to tell it.
---
"A young adventurer searches for his father in this story filled with international intrigue.
Alexander Drake comes from a long line of 'Explorers' who investigate leads into the world's most bizarre and fantastic wonders for their inclusion in Killmaiden's Compendium of Uncommon Occurrences, an encyclopedia of sorts that has been in existence for over 500 years. They search the steampunk-ish alternative universe that author Shapiro calls 'the Wide World,' where chameleon flowers grow but jet engines are merely a rumor, where the countries known to us are given far more romantic names and histories, and where an evil warlord known as the Satrap is building an army in secret. When Alex's father, Benson, is sent on a secret mission to uncover the Satrap, Alex is forced to summon all his courage and skills as a Compendium Scout to find his father—before the Satrap finds him first. Alex is only 12, but as the youngest Scout ever to have a discovery recorded in the Compendium, he's far more capable than his age lets on. He's aided in his quest by his little sister, Charlotte, his governess, Victoria, and bullied schoolmate Oliver MacLeish, who makes up for what he lacks in courage with a whole lot of brains. While visiting mythical mountain temples, tropical markets and decadent palaces, the characters learn inspiring lessons about bravery and doing the right thing. Shapiro has a marvelous imagination and seems to hold nothing back, so the story reads like an episode of Planet Earth crossed with a James Bond novel. The landscapes range from snowy expanses to desert plains to riverside harbors, taking the reader on a delightfully descriptive though dangerous journey. None of the kids are older than 17, but all face their fair share of peril, including sword fighting with pirates and shooting down soldiers. The imagery (and the page count) might be a bit too much for some kids to handle, but most will happily go along for the ride.
A wild Young Adult novel that's out of this world." — Kirkus Reviews
---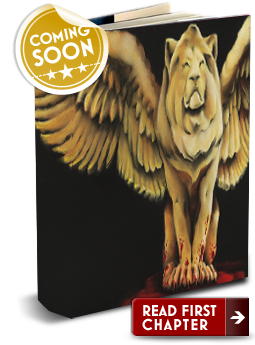 Biennial by James A. Shapiro

In the international art world, glittering fortunes can be made one minute, and come crashing down the next. No one knows that better than Natasha Turner, a talented specialist at the world's most exclusive purveyor of art, Hartley's Auction House in New York. Ms. Turner—whose friends call her "Tash"—thought rising through the viper's nest at Hartley's would be her biggest struggle. But, when her client, Lord Terrence, is murdered in London while phone-bidding through her during a major auction, Tash is plunged into intrigue on a global scale.
With Lord Terrence's dying words still ringing in her ears, Tash departs to the Venice Biennial, known as the Olympics of Art. At the Biennial, auction houses, blue chip galleries, artists, and the glamorous international elite who buy multi-million dollar paintings, decamp every two years to anoint the winner of the Leoni d' Oro, the Golden Lions. While she thinks the Biennial will take her mind off the tragedy, the murder follows Tash to the beautiful streets of Venice. Instead of being able to focus on landing a significant client—and making or breaking her career—Tash finds herself unraveling the mystery of who killed Lord Terrence against a conspiracy that involves international criminals and highly-placed government officials. In order to succeed, she'll need the help of an unlikely group, including her best friend at Hartley's, an Iraqi artist, a doting Venetian nobleman, and a rising star Congressman, who just happens to be her ex-boyfriend.
It will be a Biennial to outshine all others, if only Tash can survive it.